25 June – 19 September 2021
TAL R
– HOME ALONE
Ordrupgaard's current exhibition Tal R – Home Alone presents brand new works by the internationally renowned contemporary artist Tal R. As always, there is a lot going on in Tal R's colourful and evocative universe. The exhibition falls into three thematic sections, updating classic motifs from Ordrupgaard's collection. In Tal R's hands the figurative and the ornamental intertwine in monumental works that open the floodgates of imagination and pleasure.
The exhibition consists of 20 paintings and a large number of works on paper. An entire gallery, the largest in the exhibition, is dedicated to works created on paper. The paper medium is thus put on an equal footing with painting, a fact further emphasised by the, at times, large formats of these works.
The exhibition themes are grouped in three series. Birds in Cages was begun just before the Covid-19 pandemic made a deep impact on the world. The series shows magnificent oversized birds in small cages, and the title of the exhibition is inspired by this series. In Flowers in a Vase Tal R fantasises about the classic theme of transitoriness where the ephemeral beauty of cut flowers is captured inside the form of a vase. House facades have been a recurring theme with Tal R for a long time. Here Tal R explores the facade as the mask behind which private life unfolds.
Motifs such as Birds in Cages, Flowers in a Vase and House Facades also appear in Ordrupgaard's permanent collection. Tal R thus addresses the art-historical tradition but breaks new ground. With naively playful and colourful effects he makes us open our eyes wide and experience something unexpectedly new and long forgotten, where the inertia of habitual thinking has taken over.
The fact that Ordrupgaard is formed around a formerly private art collection and still has its roots in the founding couple's private residence is reflected in the curating of the exhibition. Tal R – Home Alone points to the domestic sphere – both as something site-specific and as a universal concept concerning us all.
The exhibition is accompanied by the film Gyldne Dages Tårer (Tears of Golden Days), created by the artist's wife, film director Emma Rosenzweig. Tal R has decorated the walls of the children's room, where children can be inspired by the exhibition motifs. The children's room is named Sun Rises. Bird Falls down.
THANKS TO:
Tal R – Home Alone is made possible with the support of Knud Højgaards Fond, Ferring Pharmaceuticals A/S, Preben Johan Michelsens Fond, Dronning Margrethes og Prins Henriks Fond, Hoffmann og Husmans Fond, Axel Muusfeldts Fond, William Demant Fonden, Beckett-Fonden, Ernst B. Sund Fonden, Frimodt-Heineke Fonden, Gangstedfonden and Toyota-Fonden.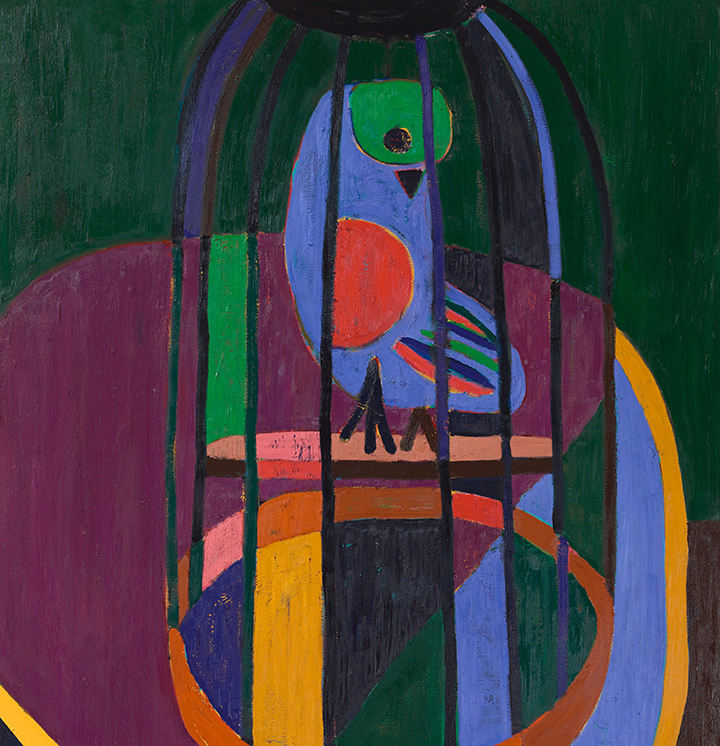 Tal R, Gibraltar, 2019 – 2020, oil on canvas, 264 x 200 cm., ©Paradis_Tal R – Copenhagen,
Foto: Anders Sune Berg
★★★★★

"Tal R rammer tidsånden med værker om længsel og forfald."

"Ordrupgaard genåbner med et brag af en udstilling, hvor Tal R i stort format vælter publikum omkuld med et monumentalt værk."

"Man bliver lidt væltet omkuld, når man kommer ind i rummet, for så overvældende virker det."
★★★★★

"Tal R er her der og alle vegne i dansk kunstliv, og hans maniske arbejdstempo kombineret med det »sjove«, barnagtige udtryk, han foretrækker, truer konstant med at reducere hans anstrengelser til poppet plakatkunst, men når han rammer rent – og det gør han her – så er Tal Rs verden sin helt egen boblende kraft, og man må bare åbne øjnene og slå forbeholdene fra."

"Jeg er efterhånden kommet til den konklusion, at Tal R er bedst, når han har et stramt koncept til at holde snor i tossestregerne – og det har han her. Udstillingen hedder altså »Alene hjemme«, og både den og navnet er mangetydigt."
★★★★★

"Med Tal R er man altid sikker på at opleve tre ting: frodighed, usnobbethed og minutiøs planlægning. Hvad angår det første, er en Tal R-udstilling altid proppet med øjeguf. Værker, der fanger vores opmærksomhed med det samme med næsten påtrængende farver, intime detaljer og en helt egen stemning. "
★★★★★

"For det nuværende lægger Ordrupgaard ud med at tapetsere nybygningen med værker af ingen ringere end Tal R. Vi kender alle Tals barnlige naive malerier, som rummer dybde og finurlighed. I tre enorme sale mødes vi af udstillingen HOME ALONE."

"Tal R kan ikke sættes i bås – hans kunst er smuk og vanvittig på samme tid. Fuglene i bur viser en sårbar skabning, der er indespærret – hvis ingen fodrer den, dør den – måske er det os selv? Eller hvad med blomsterne i vase? De er ikke i bur, men 'frie fugle', dog uanset hvor meget frisk vand de forsynes med og ligegyldig, hvor pænt man taler til dem, dør de stille og roligt – de visner hen og tørrer bort – måske er det os selv?"
★★★★★

"Tal R har stadig sin umiskendelige stil: store flader, hurtige bevægelser, stærke farver og en vis genkendelighed. Oprindelig var det bare en urkraft, der vist måtte manifestere sig, nu er motiverne blevet klarere, ensartede nærmende sig det ensformige, men med Tal R's personlige teknik, der kan opfattes som glæden ved at male – eller tegne."

"Tal R skal opleves, og hans hurtighed og hans glæde ved simple genstande skal fornemmes: fugle i bur, blomster – gerne visne i en vase, der har ligeværdig betydning. Og så de måske mere halvhjertede facademotiver. Men jeg er sikker på, at han vender tilbage og beskriver vore boliger på en ny og overraskende maner, når han igen er "alene hjemme"."
★★★★★★

"Kunstmuseet Ordrupgaard har atter slået dørene op, selv om vi må vente med at nyde de nye tilbygninger til efter sommerferien. Udstilling med Tal R's melankolske værker skuffer ikke"

"Malerierne i olie er malet med en ret så fed struktur, som næsten danner fornemmelse af murværk. De tørre kraftige murfarver giver indtryk af, at der er tale om tomme bygninger, hvilket understreger fornemmelsen af ensomhed i rum bygget for som nævnt en fugl i bur."