25 June – 19 September 2021
TAL R
– HOME ALONE
Ordrupgaard's current exhibition Tal R – Home Alone presents brand new works by the internationally renowned contemporary artist Tal R. As always, there is a lot going on in Tal R's colourful and evocative universe. The exhibition falls into three thematic sections, updating classic motifs from Ordrupgaard's collection. In Tal R's hands the figurative and the ornamental intertwine in monumental works that open the floodgates of imagination and pleasure.
The exhibition consists of 20 paintings and a large number of works on paper. An entire gallery, the largest in the exhibition, is dedicated to works created on paper. The paper medium is thus put on an equal footing with painting, a fact further emphasised by the, at times, large formats of these works.
The exhibition themes are grouped in three series. Birds in Cages was begun just before the Covid-19 pandemic made a deep impact on the world. The series shows magnificent oversized birds in small cages, and the title of the exhibition is inspired by this series. In Flowers in a Vase Tal R fantasises about the classic theme of transitoriness where the ephemeral beauty of cut flowers is captured inside the form of a vase. House facades have been a recurring theme with Tal R for a long time. Here Tal R explores the facade as the mask behind which private life unfolds.
Motifs such as Birds in Cages, Flowers in a Vase and House Facades also appear in Ordrupgaard's permanent collection. Tal R thus addresses the art-historical tradition but breaks new ground. With naively playful and colourful effects he makes us open our eyes wide and experience something unexpectedly new and long forgotten, where the inertia of habitual thinking has taken over.
The fact that Ordrupgaard is formed around a formerly private art collection and still has its roots in the founding couple's private residence is reflected in the curating of the exhibition. Tal R – Home Alone points to the domestic sphere – both as something site-specific and as a universal concept concerning us all.
The exhibition is accompanied by the film Gyldne Dages Tårer (Tears of Golden Days), created by the artist's wife, film director Emma Rosenzweig. Tal R has decorated the walls of the children's room, where children can be inspired by the exhibition motifs. The children's room is named Sun Rises. Bird Falls down.
THANKS TO:
Tal R – Home Alone is made possible with the support of Knud Højgaards Fond, Ferring Pharmaceuticals A/S, Preben Johan Michelsens Fond, Dronning Margrethes og Prins Henriks Fond, Hoffmann og Husmans Fond, Axel Muusfeldts Fond, William Demant Fonden, Beckett-Fonden, Ernst B. Sund Fonden, Frimodt-Heineke Fonden, Gangstedfonden and Toyota-Fonden.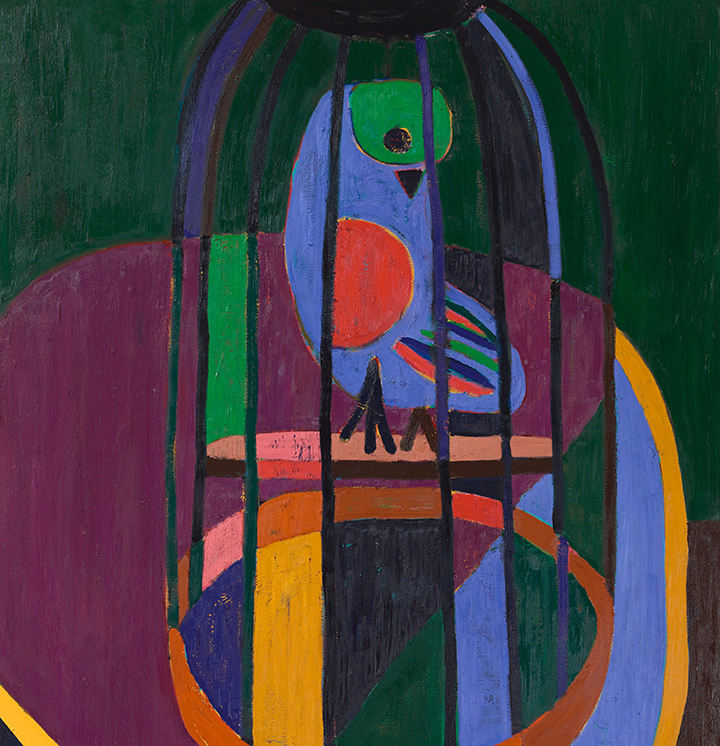 Tal R, Gibraltar, 2019 – 2020, oil on canvas, 264 x 200 cm., ©Paradis_Tal R – Copenhagen,
Foto: Anders Sune Berg